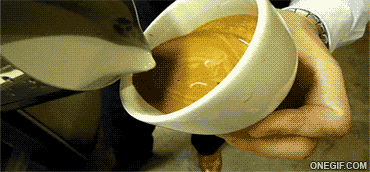 Name something that makes you happier than coffee does?

We'll wait.
It's kind of mandatory that mornings start with a coffee, and if your day doesn't, then god help the people that have to be around you that day!
Here at EL&N, our coffee comes all the way from the Veloso Farm Estate in Brazil, then sent to our roastery, finally arriving at our stores, and made to perfection by our baristas, just for you.
We thought we'd share some of our most popular coffees with you, both that do it for the taste buds and do it for the 'gram 📸
Starting with a classic Cappuccino, our coffee beans contain a tasty chocolatey, caramel and bold hint of nuts, with a medium acidity and strong body. So in-short.... simply delicious 👌🏼 and to top it off, thanks to our very talented Barista, your coffee will always have the most beautiful artwork on the top, ready for you to snap away. 
Looking for something a little bit more pink? Two words... ruby latte. With a Raw Beetroot base, our Ruby Latte not only tastes great, but it looks amazing! Totally Instagramable and guaranteed to get you those likes 👍🏼
At the end of rainbows is where I can be seen. You will know that it's me because I'm wearing green... lucky charms on a latte? It really doesn't get much better. The two compliment each other oh so well, so if you're looking for your breakfast fix, look no further than our Lucky Charms Latte.. two in one breakfast 🥄
A few things we can't get over. It's pretty, it's pink, it's delicious, and it's ICED. Yup, our Spanish Latte not only comes in multiple flavours, this one being Rose, but it's also available as an iced drink. So whether you wait until the summer to try this, or you're like us and drink iced drinks all year round, you MUST try this one. Also, look how well it photographs?!
Why not make it green? Why not make it a Jade Japanese Matcha Tea. Delicious, healthy(ish), and POPS on Instagram. It's not everyday you see a coffee look this good and green!
Last but most definitely not least, our canned brews. Whether Cold Spanish Latte is your thing, Cold Brew or Nitro Cold Brew, we've got you covered. Grab it and go 👌🏼
Click here to watch our team of baristas take a trip to our roastery to witness the process behind our coffee beans ☕️